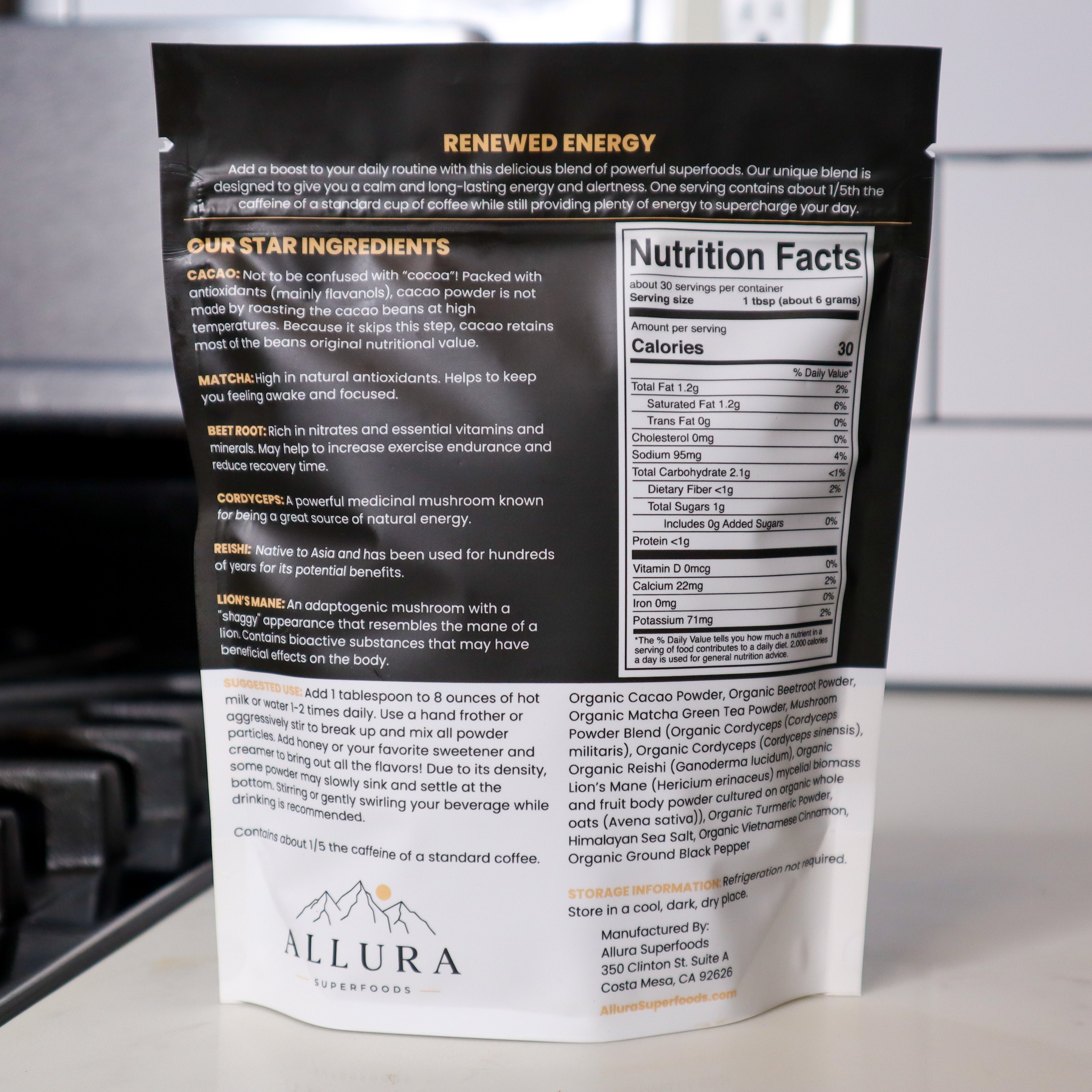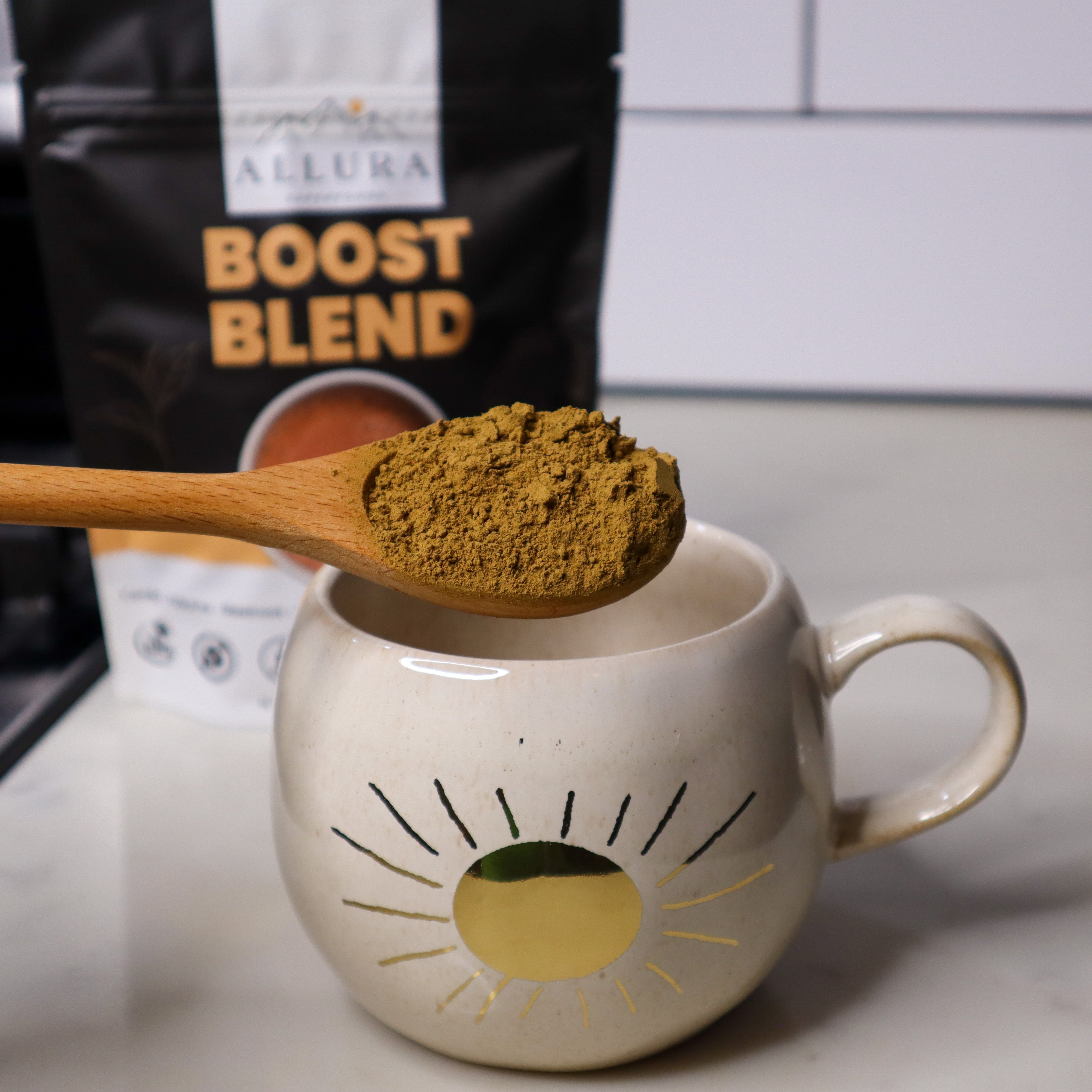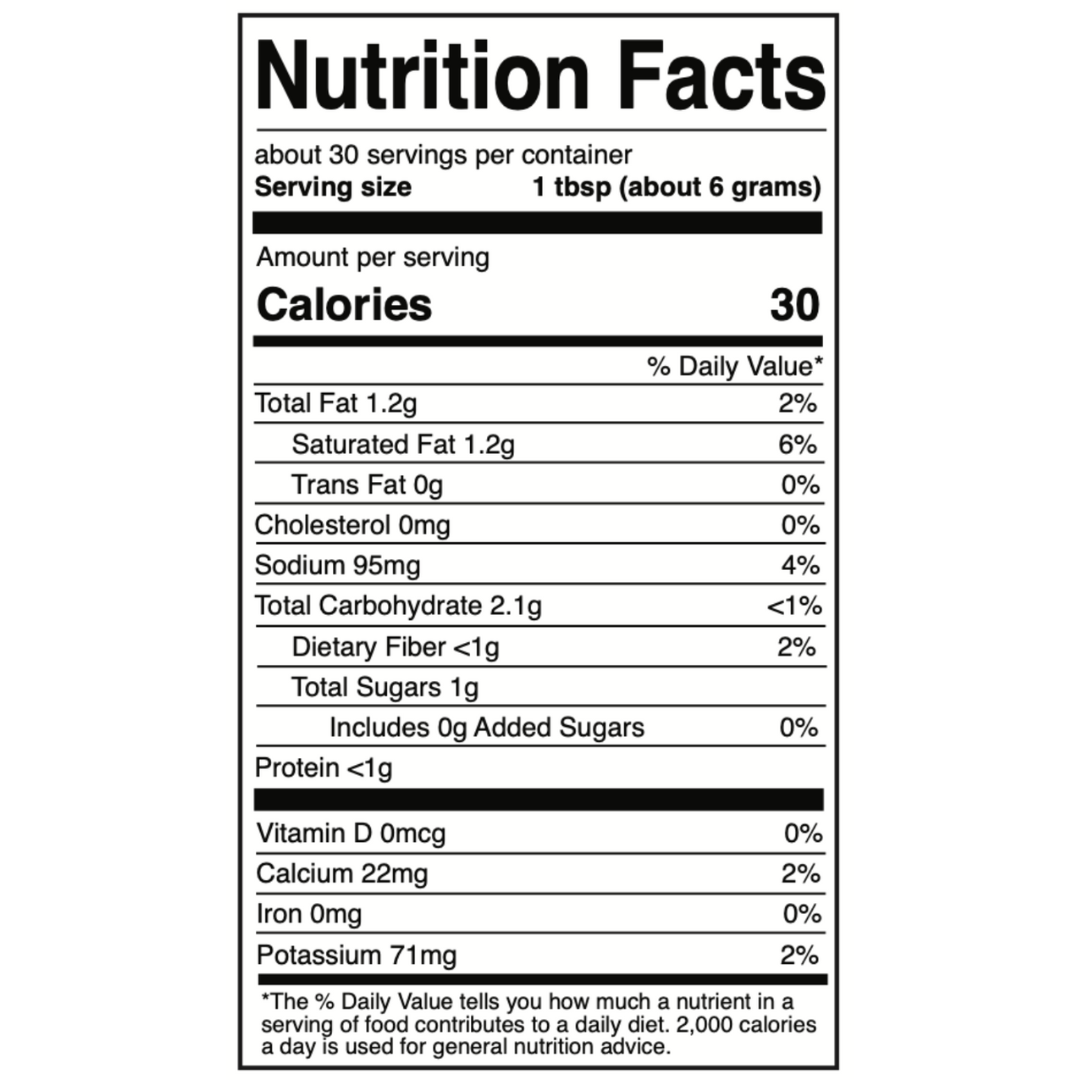 Sale price

$54.00
Regular price
(/)
---
Product Details:
A powerful blend of superfoods to kick-start your day. The Allura Superfoods Boost Blend contains a small amount of caffeine in it's delicious blend that is designed to give a more calm and long-lasting energy.
The Boost Blend has a chocolaty yet unique flavor, mainly coming from it's main powders: cacao, matcha tea, cordyceps, reishi, lion's mane, and beetroot.
Boost Blend
Sale price

$54.00
Regular price
Choose options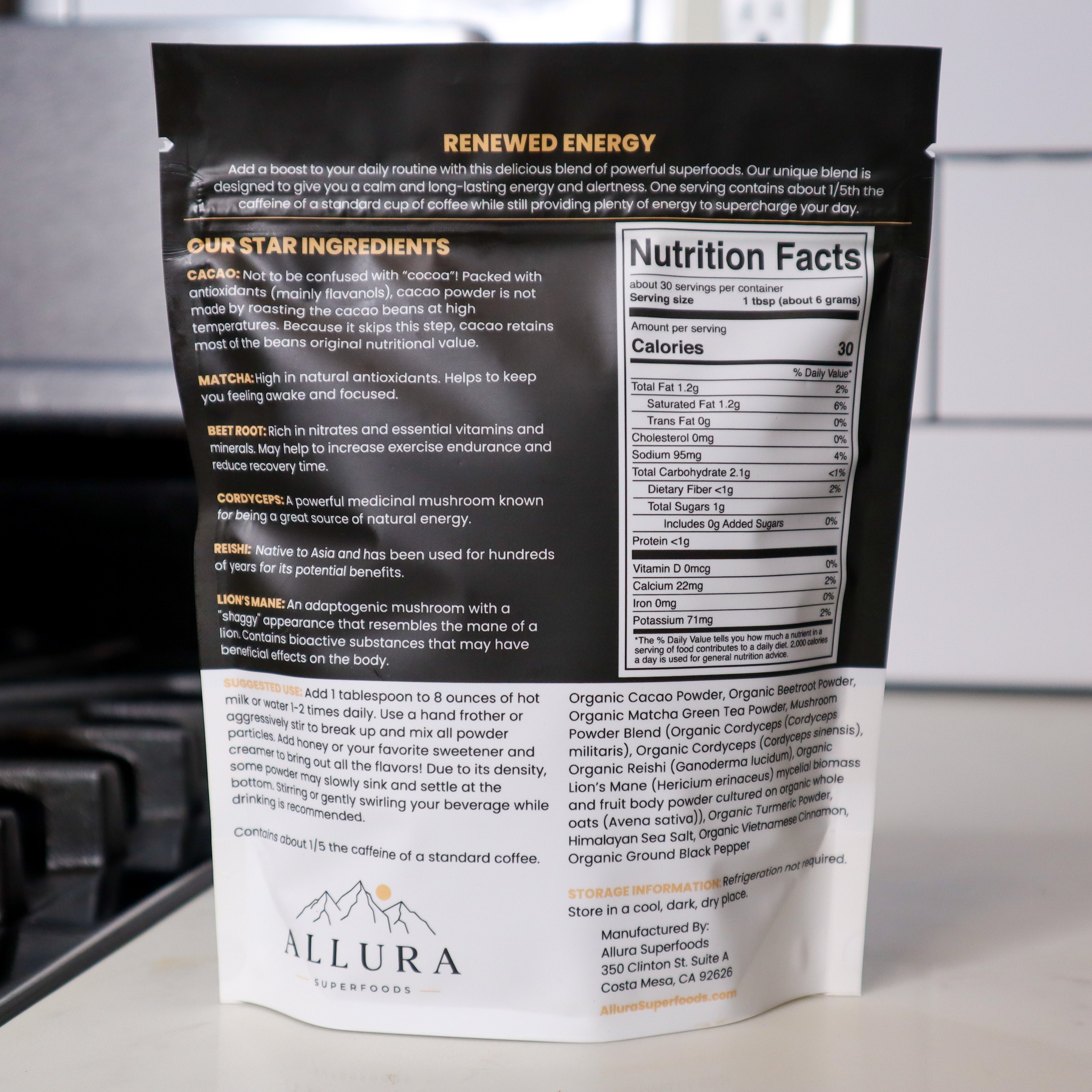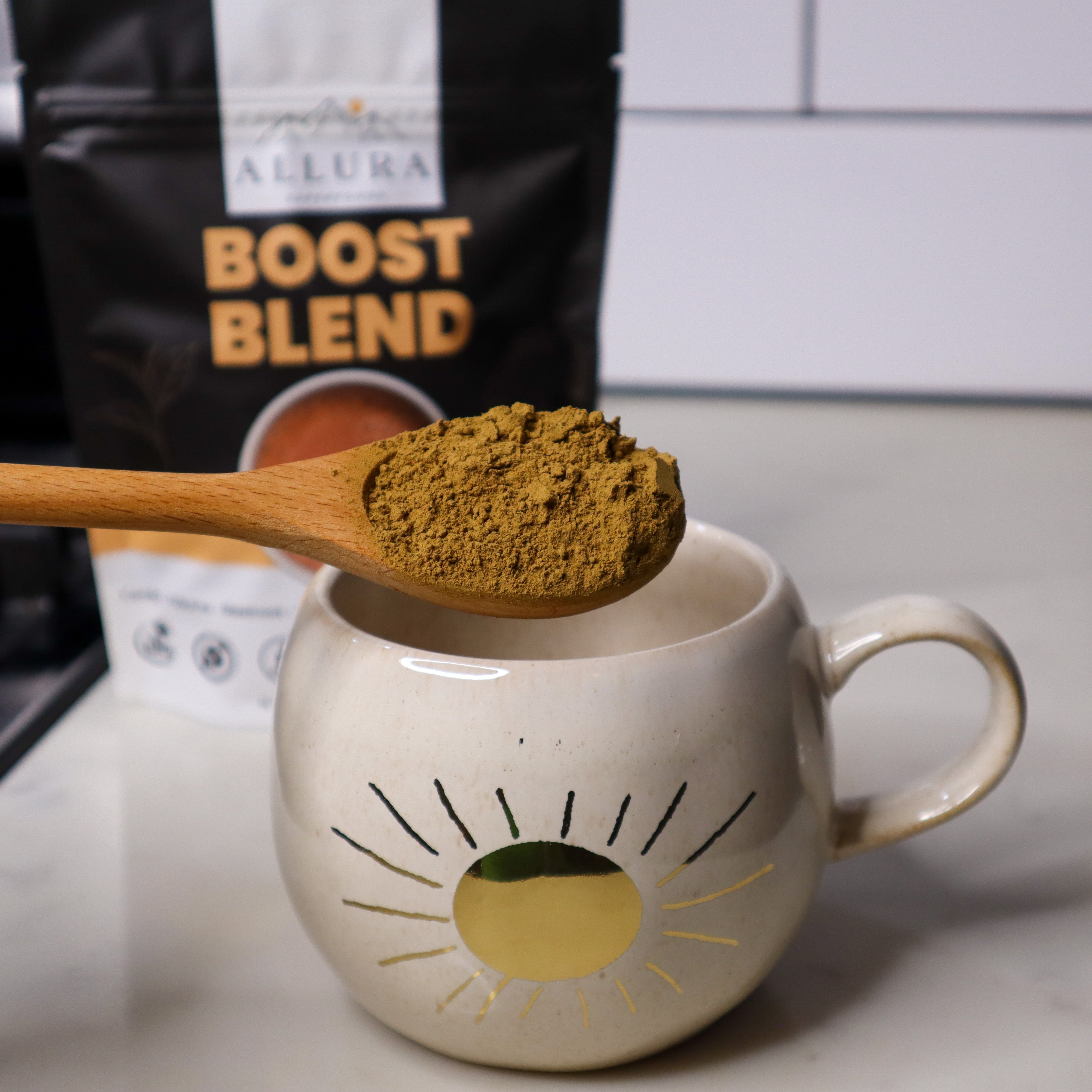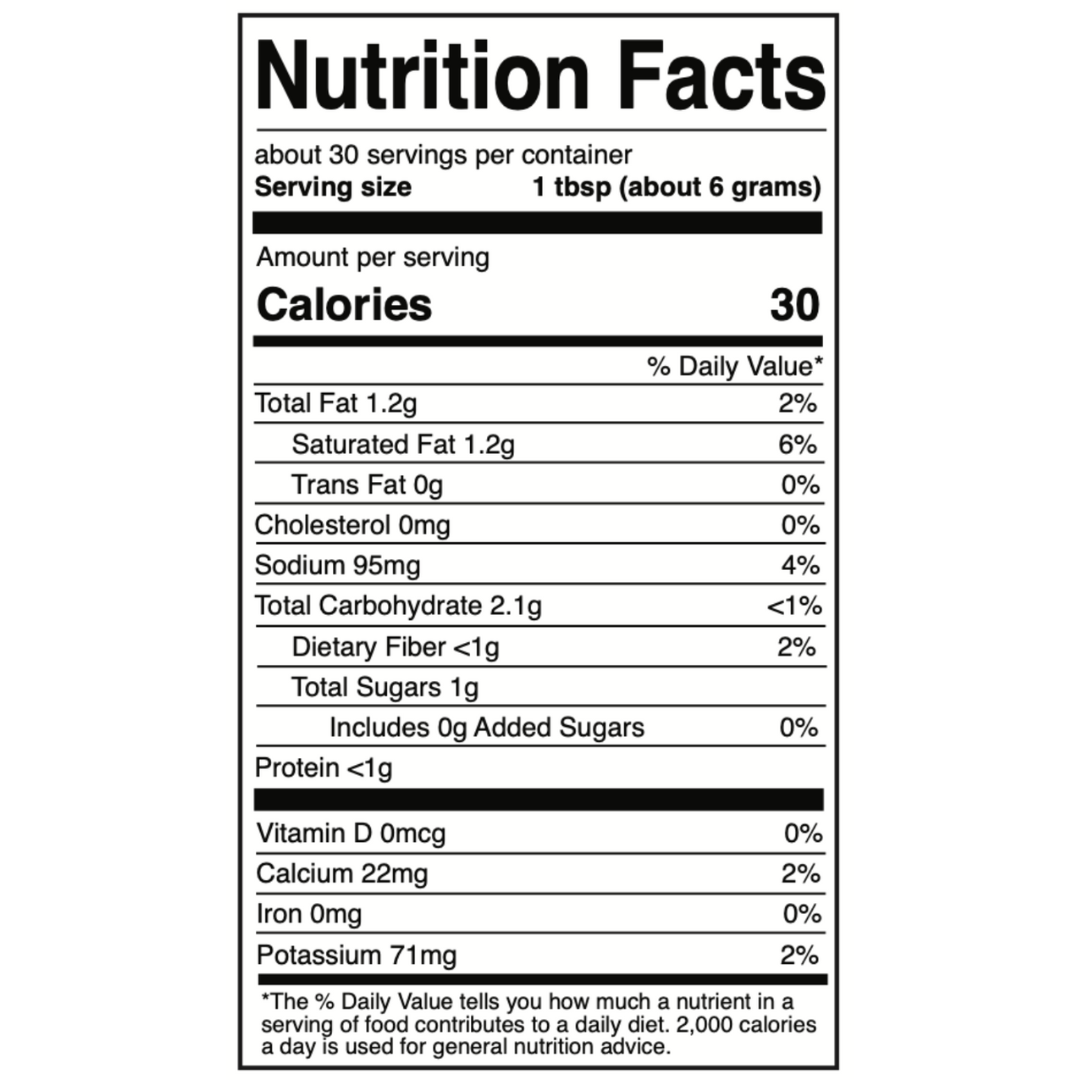 Organic Cacao Powder
Organic Matcha Powder
Organic Beet Root Powder
Organic Mushroom Blend (Cordyceps, Reishi, Lion's Mane)
Organic Turmeric Powder
For support & flavor:
Organic Cinnamon
Himalayan Sea Salt
Organic Ground Black Pepper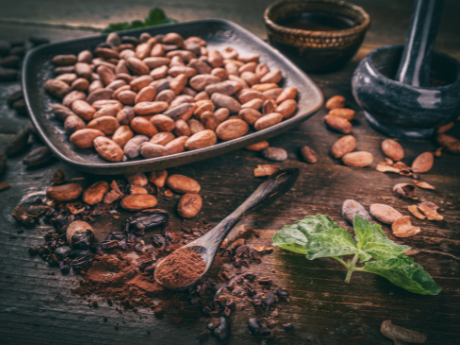 Cacao Powder
A highly nutritious superfood made from the same cacao beans that are used to make its sweeter plant sister, "cocoa".
Unlike cocoa, cacao powder is not made by roasting the cacao beans at high temperatures. Because it skips this step, cacao retains most of the beans original nutritional value.
Some potential health benefits of cacao include promoting healthy digestion, improve mood, and stress relief.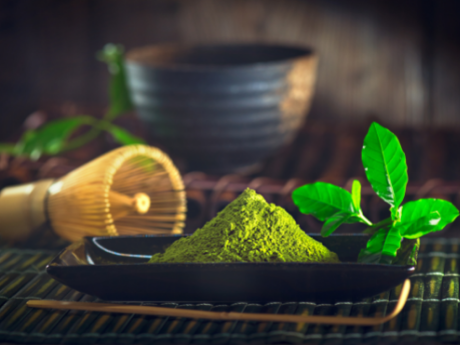 Matcha Powder
Made from the camellia sinensis plant, matcha is high in antioxidants and a powerful natural source of energy.
Although matcha comes from the same plant as green tea, it is grown differently and has a larger nutrient profile. Matcha is ground directly from the leaves of the plant and therefore retains more of the nutrients from it.
Some potential benefits of matcha include supporting a healthy metabolism, heart health, being a natural source of energy, and high in antioxidants that help stabilize harmful free radicals.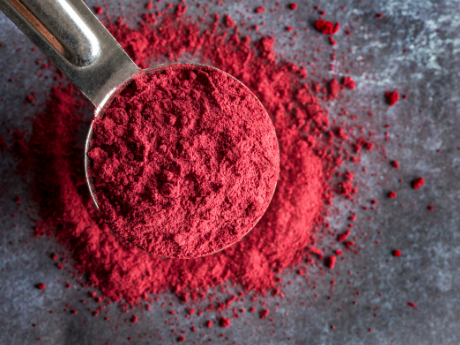 Beet Root Powder
Beets are a commonly known and highly underrated superfood that comes from the root part of the beet plant.
Beet root powder is rising in popularity because it offers a wider range of ways to consume and benefit from the nutrient-dense root.
Rich in nitrates and essential vitamins and minerals, beet root powder has a wide rage of potential benefits. Some of these benefits include improving athletic performance, supporting heart health, and improving digestive health.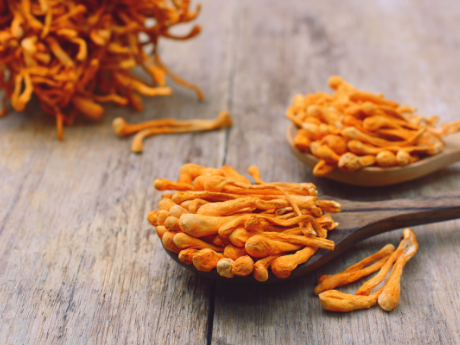 Cordyceps
A powerful medicinal mushroom known for being a great source of natural energy.
There are over 400 different species of cordyceps and the Allura Superfoods Boost Blend contains two of the most well-known: cordyceps sinensis and cordyceps militaris.
Some potential benefits of cordyceps include boosting exercise performance and endurance, working to fight inflammation, antioxidant properties, aiding in heart health, and a natural source for energy.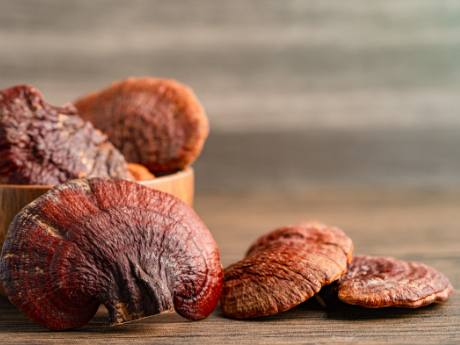 Reishi
One of the most well-known medicinal mushrooms out there, reishi (Ganoderma lucidum) is native to Asia and has been used for hundreds of years for its benefits.
Referenced in some chinese medical literature as the "Mushroom of Immortality" and the "Elixir of Life", reishi has a number of proven health benefits and uses.
Some potential benefits of reishi include helping with managing stress, fighting mental fatigue, immune system support, antioxidant properties, and sleep improvement.
Lion's Mane
True to it's name, this large adaptogenic mushroom has a "shaggy" appearance that resembles the mane of a lion.
Also referred to as "the smart mushroom", lion's mane (hericium erinaceus) is known for potentially having some support in cognitive health, among many other benefits.
Research has shown that lion's mane may help to relieve mild symptoms of anxiety, may help fight inflammation, support the immune system, and aid in heart health.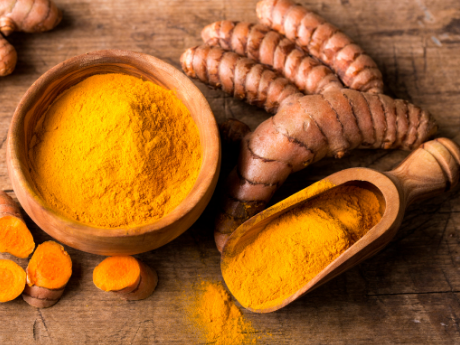 Turmeric
A highly popular and often overlooked spice that may currently be sitting in your kitchen. Turmeric is a spice and medicinal herb that has been used for thousands of years.
Turmeric contains curcumin, which is a spice that is mainly known for possibly helping to fight inflammation, among other potential benefits.
It is common practice to consume black pepper with turmeric. This is due to the fact that curcumin does not absorb properly into the bloodstream without a catalyst to improve it's bioavailability. Black pepper contains piperine, which is a natural substance that helps the absorption of curcumin.
Who knew?
The first few times I heard about it, I wasn't 100% sure if I'd want to invest in a beetroot and mushroom drink. But I figured "YOLO" and ordered a box of the single packs. And well, color me influenced because I LOVE IT. I shared it with my friend in CA when I visited. Not only did she buy a bag for herself, but then she turned me onto the Golden Blend, which *chef kiss*. You get what pay for and what you're paying for is a really quality product! If you're on the fence, DO IT.
Allura Boost Blend
I love the savory cacao taste along with the other flavors of boost blend. I add in coconut sweet cream and it's delicious! Also, I love that I'm not running to the restroom soon after drinking it (like with coffee) and my
tummy takes it well. Thank you!
Thank you so much for your feedback Maria! We are so happy that you are enjoying the Boost Blend :).
Boost Blend
I ordered boost blend and I is amazing! The flavors are so rich and creamy and it really has helped improve my focus and energy! I'm an emergency veterinarian who works 12-15 hour shifts so I need all the energy! I haven't had to have any extra caffeine at work since starting this routine with the Shilajit added in!
The long-lasting energy it gives is UNMATCHED. We love this feedback so much . Thank you for choosing to support Allura! Happy that you are enjoying the products!
Pure magic blend
You can't be disappointed with with mushroom coffee blend. It tastes so good and your gut will be grateful for your help. I love my boost blend and highly recommend it!
Energy + guy health + warm and cozy >>>. So happy to know that you're enjoying the Boost Blend! Thank you so much for taking the time to review .
Love it!!
I have been addicted to my morning coffee for years and started having bad stomach issues and needed to cut it out, I was nervous to give this a try but I'm loving it! It tastes better than I expected and I'm already noticed I'm feeling way less anxious, my mind is more clear, and I'm not so tired later in the day. I love it!!